[Series introduction: This post is part of a series that examines what certain leaders in church history believed about head covering. Their arguments, choice of language and conclusions should not be misconstrued as an endorsement from us. The purpose of this series is to faithfully show what they believed about covering rather than only selectively quoting the parts we agree with.]
Ambrosiaster (4th century) is the name given to the anonymous author of the earliest complete Latin commentary on the thirteen epistles of Paul. The commentaries were thought to have been written by Ambrose throughout the Middle Ages, but their authorship was challenged by Erasmus, whose arguments have proved decisive. Writing during the pontificate of Damasus (366-384), he is a witness to Nicene orthodoxy and often offers comments that reflect his knowledge of how the church had changed from the time of the apostles to his own day. His commentaries offer us insight into the thinking of a pre-Reformation church leader.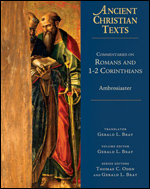 Though we don't know the identity of Ambrosiaster, his commentary gives us access into the mind and beliefs of a 4th century Christian theologian. We're able to see that head covering had adherents and defenders from the early church and we can see how someone from that era understood Paul's reasoning in the text. Since Ambrosiaster provides a line-by-line commentary of 1 Corinthians 11, we have a more complete picture of how he understood this doctrine.
First we see that Ambrosiaster was a complementarian. He understood that the structure of authority given in 1 Cor 11:3 did not indicate value or worth, but function. He said "Man is greater than she is by cause and order, not by substance". The woman should not "be upset because of her state of subjection" and the man should not think "that he has some exalted position". Read more