What Did John Bunyan Believe About Head Covering?

[Series introduction: This post is part of a series that will examine what certain leaders in church history believed about head covering. Their arguments, choice of language and conclusions should not be misconstrued as an endorsement from us. The purpose of this series is to faithfully show what they believe about covering rather than only selectively quoting the parts we agree with.]
John Bunyan (1628-1688) was an English, Baptist, Puritan author and preacher. He is the author of more than 60 books but most famously known for his classic novel, "The Pilgrim's Progress". Bunyan's writings share the same clear and direct style as his immensely popular sermons, which were known to draw crowds of around 3,000 individuals on Sunday.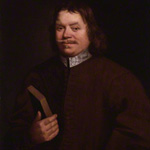 In 1683 Bunyan published a tract entitled "A Case of Conscience Resolved" dealing with women who segregated themselves and were gathering together privately for worship (with no men present). He was asked for his opinion on this practice and to respond to a Mr. Keach who permitted and defended these womens meetings. In his tract John Bunyan expresses disagreement with the practice and lays out a case for why worship must be men and women together, with men taking the lead.
Near the end of this tract John Bunyan refers to 1 Corinthians 11 several times and sheds light on his understanding of head covering.
Here's how he starts:
WOMEN! They are an ornament in the church of God on earth, as the ANGELS are in the church in heaven. Betwixt whom also there is some comparison, for they cover their faces in acts of worship (Isa 6:2; 1 Cor 11:10).*
Bunyan saw a parallel between the angels in Isaiah 6 and women in worship who both veil themselves in the presence of God.
Continuing on he says:
But as the angels in heaven are not Christ, and so not admitted to the mercy-seat to speak to God, so neither are women on earth, [but] the man; who is to worship with open face before him, and to be the mouth in prayer for the rest. As the angels then cry, Holy, Holy, Holy, with faces covered in heaven: So let the women, cry, Holy, Holy, Holy, with their faces covered on earth: Yea, thus they should do, because of the angels. "For this cause ought the woman to have power," that is a covering, "on her head, because of the angels" (1 Cor 11:10). Not only because the angels are present, but because women and angels, as to their worship, in their respective places, have a semblance. For the angels are inferior* to the great man Christ, who is in heaven; and the woman is inferior to the man, that truly worships God in the church on earth.*
Bunyan continues on with several comparisons between women and angels. Just as angels do not approach the mercy seat to speak to God, women do not speak in church meetings (1 Cor 14:33-35). Just as angels cover their faces in Heaven, women cover on earth. Just as angels are inferior* to God, women are inferior to men. He then appeals to 1 Cor 11:10 for support not only because angels are present in worship but also because they are like women.
He continues:
Methinks, holy and beloved sisters, you should be content to wear this power, or badge of your inferiority, since the cause thereof arose at first from yourselves. It was the woman that at first the serpent made use of, and by whom he then overthrew the world: wherefore the women, to the world's end, must wear tokens of her underlingship in all matters of worship.*
Bunyan exhorted women to cover "in all matters of worship" which he understands as when the church corporately meets together. He said this was to be done "to the world's end" showing that he understood this practice to be ongoing and permanent.
To say nothing of that which she cannot shake off, to wit, her pains and sorrows in child-bearing, which God has riveted to her nature, there is her silence, and shame, and a covering for her face, in token of it, which she ought to be exercised with, whenever the church comes together to worship (Gen 3:16; 1 Tim 2:15; 1 Cor 11:13; 1 Tim 2:9).*
Just as the womens pain in child-bearing never ends, so also is she to worship in silence and with a covering forever "whenever the church comes together to worship". Bunyan saw the covering as a "token of her shame" which he connects to Eve's disobedience in Genesis.
Bunyan also referenced head covering when talking about "extraordinary" women in the Bible who prophesied, taught or had authority*:
Though this I must say concerning them, they ought to, and did, notwithstanding so high a calling, still bear about with them the badge of their inferiority to them that were prophets indeed. And hence it is said, under pain of being guilty of disorder, that if they prayed in the church, or prophesied there, with their head uncovered, they then dishonoured their head (1 Cor 11:5). The prophetesses were below the prophets, and their covering for their heads was to be worn in token thereof…*
He notes that even though these women had extraordinary function, they still would have worn a covering in church. Finally he says as a good summary of his view:
The men are admitted in such worship, to stand with open face before God, a token of much admittance to liberty and boldness with God, a thing denied to the women (1 Cor 11:4,5).*
Summary of John Bunyans views:
| | |
| --- | --- |
| Did he see the need for covering today? | Yes |
| At what times does he believe women need to be covered? | During corporate worship |
| What did he see the covering as? | A token of the womans shame |