Is a Woman's Long Hair Her Covering?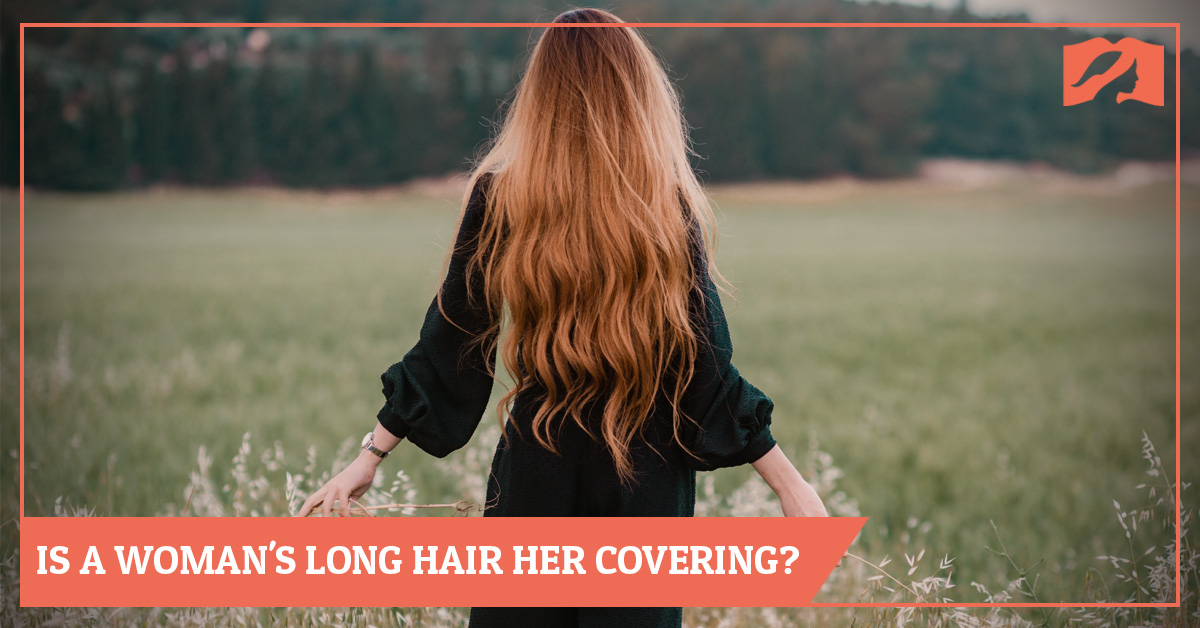 The Objection: The Scriptures tell us that women must pray & prophesy covered. This should not be understood as an artificial covering on top of her hair since 1 Corinthians 11:15 states that a womans covering is her long hair. The fact that men should have short hair and women have long hair was Paul's point.
While we affirm that a woman's long hair is her natural covering, we see two different coverings being talked about in this chapter. One of them is a woman's long hair which is natural, permanent  and a glory to her  (1 Cor 11:14-15). The other would be a fabric covering which is artificial, removable (1 Cor 11: 5) and a symbol of authority (1 Cor 11:10).
Instead of a Covering?
Support for long hair as the only covering comes from verse 15, "For her hair is given to her for a covering." Those advocating this position argue that the Greek word "anti" (translated "for") means "in place of". They would understand this passage as saying: "her hair is given to her [in place of / instead of] a covering".
On this point Dr. Thomas Schreiner (Professor of New Testament Interpretation, SBTS) notes,
"The preposition anti in 11:15 need not refer to substitution. It can also indicate equivalence. The latter makes better sense in the context". 1) Thomas R. Schreiner 'Head Coverings, Prophecies and the Trinity' – Footnote #7. Dr. Schreiner does not believe a head covering is necessary today.
A.T. Robertson (Former Professor of New Testament Interpretation, SBTS)  further points out,
"It is not in the place of a veil, but answering to [anti], in the sense of [anti] in John 1:16, as a permanent endowment [dedotai], perfect passive indicative. 2) A.T. Robertson – Word Pictures in the New Testament – 1 Corinthians, Volume 1 – 11:15 'for a covering'. He does not believe in the ongoing practice of head covering.
The example that A.T. mentions is John 1:16 which says "For of His fullness we have all received, and grace upon grace." (NASB). The section he's referencing is at the end where it says, "charis anti charis" (translated: "grace upon grace" NASB or "grace for grace" KJV). This example shows that "anti" doesn't only mean substitution as we haven't received "grace instead of grace".
Short Hair being Cut Short
The fact that Paul only commands covering for certain times (1 Cor 11:4-5) hints that he has a removable covering in mind. Additionally, if long hair were the only covering mentioned in this chapter then there's a major problem with verse 6.
Let me show you what I mean.
If long hair were the same as being covered according to Paul, what would be being uncovered? It would mean having short hair, right? The opposite of covered is uncovered and the opposite of long hair is short hair. So if that's what Paul had in mind, let's do some word replacement in verse 6. Where we see the word "cover her head", let's replace that with "have long hair".
For if a woman does not [have long hair], let her also have her hair cut off (1 Cor 11:6a NASB)

For if a wife will not [have long hair], then she should cut her hair short (1 Cor 11:6a ESV)
If you refuse to have long hair, you should cut your hair short? You'd already have short hair! This argument wouldn't make sense.
Some then object to the ESV rendering of "cut short". They would understand "cut off" (NASB) as a synonym for shaved making this argument less nonsensical. Paul's argument would then be transformed into "if a woman has short hair, she should shave it all off". The problem with this argument is "cut off" cannot mean shaved in this context.
The Greek word translated "cut off" is keirō. This word is used again later in this very same passage and it's differentiated from "shaved" which is the Greek word xuraō.
Here's what it says: "…disgraceful for a woman to have her hair cut off (keirō) or her head shaved (xuraō)…". Did you catch it? He said "or" shaved. So while "cut off" (keirō) can be used to describe a shaved head, Paul couldn't have had this in mind here. 3) Thayer's definitions for G2751 lists 'cutting short the hair of the head' as one of the acceptable definitions. This is the only definition that fits the context. http://www.blueletterbible.org/lang/lexicon/lexicon.cfm?strongs=G2751  If we were to understand it that way his argument becomes "…disgraceful for a woman to have her hair [shaved] or her head shaved…". Shaved or shaved? Once again this just wouldn't make sense.
Glory or Submission?
When Paul references a womans long hair as her covering he says this not to define what he had commanded in verses 4-13, but to support his argument as a reason for the wearing of an artificial covering (see: Nature). We know it's an argument because it's phrased as a rhetorical question, "Does not even nature itself teach you…". Furthermore he calls a woman's long hair her glory, this further shows Paul has two coverings in mind as earlier he said it's a symbol that she's under authority (1 Cor 11:10).
Greek scholar Dr. Daniel Wallace says about this point:
Verses 10 and 15 would have to be saying the same thing if long hair is the same as a head covering. But this can hardly be the case. In v 10, a woman is required to wear a 'symbol of authority.' Such a symbol represents her submission, not her glory…A literal translation would be: 'it is a glory to her' or 'a glory accruing to her,' or 'to her advantage.' Surely this is not the point of v 10! 4) From http://bible.org/article/what-head-covering-1-cor-112-16-and-does-it-apply-us-today. Dr. Wallace does not believe a head covering is necessary today.
History's Witness
Finally, the fact that the church unanimously understood Paul to mean an artificial covering until recent times is worthy of mention. Tertullian (160 – 215 AD), writing only 150 years after Paul wrote 1 Corinthians said that the church in Corinth was still practicing veiling in his day. He said, "So, too, did the Corinthians themselves understand him. In fact, at this day the Corinthians do veil their virgins. What the apostles taught, their disciples approve." 5) Tertullian – On The Veiling Of Virgins – Chapter VIII.  Hippolytus (170 – 236 AD) writing around the same time said "…let all the women have their heads covered with an opaque cloth…". 6) From 'The Apostolic Tradition of Hippolytus – Part II – Number 18

So a woman's natural covering is her long hair which is her glory. However, when she is "praying and prophesying" she is also to wear an artificial covering to cover that glory, as a symbol that she's under authority (1 Cor 11:10).
Latest posts by Jeremy G.
(see all)