A Critique of Bruce Winter's "Roman Wives, Roman Widows" (Part 2)
[Note: This is a response to pages 78-81 in Roman Wives, Roman Widows (Eerdmans, 2003) by Bruce Winter. The content appears under the heading "The Significance of the Veil in Marriage." For part one of our response which deals with pages 81-83 (The Significance of the Removal of the Veil in Public) please click here.]
In Roman Wives, Roman Widows, Bruce Winter seeks to make a case that a woman wearing a veil communicated that she was married, faithful and modest. He begins his case by linking the veil to marriage through various historical sources. He mentions that Plutarch believed that "'veiling the bride', was in effect, the marriage ceremony" 1) Bruce Winter – Roman Wives, Roman Widows (Eerdmans, 2003) Page 78 and that "other writers in the early Empire confirm that the bride's veil was an essential part of her apparel." 2) Ibid Winter, by pointing out this evidence, seeks to convince the reader that the headcovering women were removing in 1 Corinthians 11 was their "marriage veil." By taking it off they were identifying themselves as independent and immodest women.
The Connection between "Marriage" and the "Veil"
It would be helpful for us to now take a look at the original writings that Winter puts forth to support the connection between marriage and the veil. He references the writings of Plutarch, Juvenal and Tacitus. He also mentions a statement by Felix but follows that up with a paragraph casting doubt that it should be taken as evidence. So we'll leave that one out and just look at the other three. First is Plutarch from his writing Advice to the Bride and Groom:
"In Boeotia, after veiling the bride, they put on her head a chaplet of asparagus; for this plant yields the finest flavoured fruit from the roughest thorns, and so the bride will provide for him who does not run away or feel annoyed at her first display of peevishness and unpleasantness a docile and sweet life together." 3) Plutarch – Advice to the Bride and Groom 138E. Accessed online here: http://penelope.uchicago.edu/Thayer/E/Roman/Texts/Plutarch/Moralia/Coniugalia_praecepta*.html
From this statement Winter concludes that Plutarch believed the "'veiling the bride', was in effect, the marriage ceremony." 4) Bruce Winter – Roman Wives, Roman Widows (Eerdmans, 2003) Page 78  Wayne Grudem, helping to piece this connection together for the reader, says that the "chaplet of asparagus" put on the woman's head was "part of the wedding ceremony." 5) Wayne Grudem – Evangelical Feminism & Biblical Truth (Crossway, 2012) Page 334 Footnote #8 Second is Juvenal's Satires which Winter footnotes twice. The first quote satirically portrays a man wearing what would only be appropriate for the bride.
Asked to the feast, the 'bride' reclines in the husband's lap.
O, you princes, is it a censor we need, or a prophet of doom?
Would you find it more terrible, think it more monstrous
Truly, if a woman gave birth to a calf, or a cow to a lamb?
He's wearing brocade, the long full dress, and the veil 6) Juvenal – Satires 2.119ff. Accessed online here: http://www.poetryintranslation.com/PITBR/Latin/JuvenalSatires2.htm#_Toc280783785
and the second reference:
He's the finest, most handsome member of the
Patrician race, yet a glance from Messalina is drawing him
To a wretched finale; she's been waiting a while now, her
Bridal-veil all ready, her regal marriage bed's prepared 7) Juvenal – Satires 10.333ff. Accessed online here: http://www.poetryintranslation.com/PITBR/Latin/JuvenalSatires10.htm#_Toc284248936
In both quotes there's a connection between the bride and a veil. Finally, Winter references the Annuals of Tactitus8) There was a second reference to Annuals 11.27.1 which we didn't mention. The reason for that is because the statement "have assumed the veil"  though found in some translations is not found in others (ex: http://www.perseus.tufts.edu/hopper/text?doc=Tac.+Ann.+11.27&fromdoc=Perseus%3Atext%3A1999.02.0078 :
Nero, to win credit for himself of enjoying nothing so much as the capital, prepared banquets in the public places, and used the whole city, so to say, as his private house…On the margin of the lake were set up brothels crowded with noble ladies, and on the opposite bank were seen naked prostitutes with obscene gestures and movements. As darkness approached, all the adjacent grove and surrounding buildings resounded with song, and shone brilliantly with lights. Nero, who polluted himself by every lawful or lawless indulgence, had not omitted a single abomination which could heighten his depravity, till a few days afterwards he stooped to marry himself to one of that filthy herd, by name Pythagoras, with all the forms of regular wedlock. The bridal veil was put over the emperor; people saw the witnesses of the ceremony, the wedding dower, the couch and the nuptial torches; everything in a word was plainly visible, which, even when a woman weds darkness hides. 9) Tacitus, The Annuals 15:37. Accessed online here: http://www.perseus.tufts.edu/hopper/text?doc=Tac.+Ann.+15.37&fromdoc=Perseus%3Atext%3A1999.02.0078
In this instance the "bridal veil" is indicated as a part of "the forms of regular wedlock." Nero, presumably due to his immorality and perversion switched proper gender roles and wore the bridal veil himself.
Flammeum: The Real Marriage Veil
My purpose in fully quoting what was only referenced in the footnotes by Winter, is so you can see this connection clearly for yourself. I agree that the bridal-veil would have been associated with marriage. Where I take issue is that Winter fails to distinguish between different types of veils. He leaves the reader with the impression that there is only one 'head covering,' and it was the 'marriage veil.' This is not true. The flammeum (pictured left), was a part of "recognised [Wedding] costume." 10) A.T. Croom – Roman Clothing and Fashion (Tempus Publishing, 2000) Page 110 It was a flame-coloured mantle which was "worn in the same way as the palla, but instead of the edge resting on the top of the woman's head, it was pulled forward to hide half of her face." 11) Ibid The flammeum is the true marriage veil and it was worn by women on their wedding day, but not after. Dr. Kelly Olson (Author, Dress and the Roman Woman) states "that the flammeum was the veil worn continuously by matronae has been rejected by modern scholars, and interpreted as "a careless statement of the well known marriage custom". 12) Kelly Olson – Dress and the Roman Woman (Routledge, 2008) Page 22. A matronae is a respectable married woman. Winter is surely aware of this distinction as he quotes and references from 'The Costume of the Roman Bride' by La Follette. 13) This is an essay found in the book The World of Roman Costume, edited by Judith Lynn Sebesta & Larissa Bonfante.  Winter quotes this work in support of his position, and the exact place he references is a section which is describing the flammeum. Because the different veils are not properly distinguished between each other, readers are left thinking any veil is a "marriage veil."
To help make this clearer, if a person peered in on a 21st century North American "wedding scene" they would likely see the bride veiled as well. We understand that culturally there's a certain type of veil that only brides wear during their ceremony. We would not assume that any veil was a bridal veil, or that if a woman was covering her head in a different context (like worshiping during a Sunday service) it would be a sign of her marriage. When we look at 1 Corinthians 11 we see that Paul is only concerned with what men and women wear on their heads "when praying or prophesying" (1 Cor 11:4-5) and the flammeum (bridal veil) wasn't worn after the marriage ceremony. Because of this, Winter's conclusion that Paul is dealing with women throwing off their cultural symbol of marriage, is not compelling.
Large and Small Herculaneum Women
Moving from historical evidence to archaeological, Winter seeks to bolster his case by comparing a set of statues known as the "Large and Small Herculaneum Women" (pictured left). The "large" is of a woman with her head covered (assumed to be married) and the "small" is young girl with her head uncovered (assumed to be unmarried). These statues came from Ancient Herculaneum, which is in Italy. The larger statue according to Winter was "sculpted wearing the veil thus representing the married woman." 14) Bruce Winter – Roman Wives, Roman Widows (Eerdmans, 2003) Page 78 She has a "long dress,"  "defensive gestures," and a "lowered gaze." 15) Bruce Winter – Roman Wives, Roman Widows (Eerdmans, 2003) Page 79  In contrast, the smaller statue "represented the younger, unmarried woman who was expected to arrive at her marriage a virgin, hence the slightly more guarded body language." 16) Ibid  The most relevant distinction between these two statues is that in the smaller statue, the younger is not wearing a veil. This seems to lend support to Winter's claim that a veiled head was the sign of a married, modest woman. So what's the problem with this evidence? First, as we've already discussed, Winter gives the impression that any veil is a marriage veil. The larger Herculaneum woman is not wearing the flammeum (bridal veil) but instead has her palla pulled up over her head. So we already have a disconnect between the historical evidence Winter had just put forth and these statues. These are two different types of head coverings we're speaking about. Second, this is a small sample size which is not reflective of the majority of archaeological evidence we possess.  Here's what some scholars who've written on Roman clothing say:
"The vast majority of female portrait busts we possess show the woman with an unveiled head, probably in order to display her elaborate hairstyle to the viewer." 17) Kelly Olson – Dress and the Roman Woman (Routledge, 2008) Page 34
-Dr. Kelly Olson (PhD, University of  Chicago – Author, Dress and the Roman Woman)
"Public marble portraits of women at Corinth, presumably members of wealthy and prestigious families are most frequently shown bare-headed." 18) David W. J. Gill – The Importance of Roman Portraiture for Head-Coverings in 1 Corinthians 11:2-16, Tyndale Bulletin 41.2
-Dr. David W.J. Gill (PhD, University of Oxford) 
"Because most of the women's portraits presented here portray women with uncovered heads, one may infer that bareheadedness in itself was not a sign of a socially disapproved lifestyle." 19) See 'Hairstyles, Head-coverings, and St. Paul: Portraits from Roman Corinth' by Cynthia L. Thompson (Biblical Archaeologist, June 1988) page 112
-Dr. Cynthia L. Thompson (PhD, Yale University)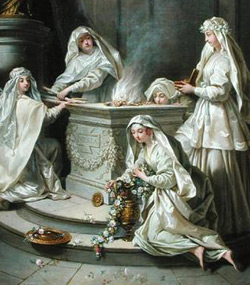 The Vestal Virgins
I don't want to give the impression that I believe that young girls covered their heads in Roman culture. The evidence does not support that. What I am disputing is that a head covering signifies that a woman was married and/or modest. This is clearly not the case because the majority of Roman archaeological finds depict women with uncovered heads. We also know at least one group of respected, unmarried women covered their heads as well. A.T. Croom (Author, Roman Clothing and Fashion) says:
The Vestal Virgins are the most well-known of Roman priestesses, holding a very special role in Roman public life…The most important elements, as with the bride, was the covering for the head." 20) A.T. Croom – Roman Clothing and Fashion (Tempus Publishing, 2000) – Page 112
So here we have an example of a group of unmarried women (they took vows of virginity) who were publicly respected and they covered their heads. As we can see, viewing the "covered head" as synonymous with "married woman" cannot stand up to scrutiny.
Immodest Bronze Statues
As Winter concludes this section he appeals to one last piece of archaeological evidence. He sets it up with this question: "How did the dress of the immodest woman differ from that of the modest wife?" 21) Bruce Winter – Roman Wives, Roman Widows (Eerdmans, 2003) Page 80 To show the contrast he gives a description of another set of bronze statues found in the same city. These statues are of "two dancing girls" with "no veils or mantles." 22) Ibid  One is "undoing her dress so as to expose her shoulder and part of her breast." 23) Ibid  These girls conveyed "the exact opposite of the modest wife." 24) Ibid Such evidence would be compelling if it was unanimous or had only few exceptions, but as we've already mentioned respectable women are seen without veils far more often than with them. These statues do nothing more than prove that these two women were immodest girls.
Conclusion
In this section of the book Winter seeks to prove that wearing a veil was culturally the sign of a faithful, modest, wife. He begins by using various historical sources that show the connection between veiling and marriage. However, Winter does not distinguish between the flammeum (bridal veil) and other coverings such as the palla (which would have been worn by many women in day-to-day life). By not making this distinction he gives the impression that any veil is a "marriage veil" which wrongly leads to the conclusion that 1 Corinthians 11 is dealing with wives throwing off the symbol of their modesty and marriage. The archaeological evidence put forth fails to convince because it is not representative of the majority of findings. Winter does not mention this fact, which wrongly leads his readers to believe that what was presented in this book would be confirmed as normative in a larger sample size of archaeological evidence. By contrasting the unveiled dancing girls with the modest large/small Herculaneum women, Winter leads his readers to the wrong conclusion that the "veil" is what separates the modest from the immodest and the married from the unmarried.
Latest posts by Jeremy G.
(see all)