Covering Testimony: Michelle Yowler

| | | | |
| --- | --- | --- | --- |
| Name: Michelle Yowler | Age: 45 | Location: Allen Park, Michigan | Started Covering: Oct 2013 |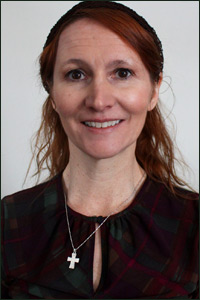 1) Introduce yourself to our readers.
I was baptized and confirmed at Mount Hope Lutheran Church & School. My family was know for having a EC membership, which means we attended church on Easter and Christmas, if that. After confirmation at the age of 13, like so many other Lutheran kids, I wandered away from the church. I always keep my faith in God; however, I didn't go to church on a regular basis. I would go to any church just to get the experience, because I've always been fascinated with different cultures and religions. While others dreaded Sociology class in high school, I loved it. After high school, I went in Air Force where I meet and married my husband. We've been married for twenty-six years and have a twenty-two year old daughter. After having my daughter, I started attending church regularly and sent my daughter to Christian schools were I became very active in church service again. I currently work as a secretary for the church and school I grew up in and where my daughter attended school from preschool – 8th grade.
2) Where do you attend church? Tell us a little bit about it.
Oh, this is a complicated question. Currently, I go to church with my husband at Gilead Baptist Church about three times a month and, also once a month, we attend Mount Hope Lutheran Church. It's complicated, because I feel guilty about attending church with my husband at the Baptist church and only attending the Lutheran church where I grew up at and work for once a month. I feel I'm "cheating" or "turning my back" on my family heritage by attending the Baptist church. There are aspects of both churches that I love. Since my husband is the head of our household, I choose to worship where he goes. My husband is very sympathetic to the struggle I'm going through and understands how hard it would be for me to break my ties with the church I've worshiped at all these years. I leave this issue at the foot of the cross and know that God will show me the way.
3) What led you to start covering?
About five years ago I started really delving into Scripture and letting the Word "speak to me". After reading 1 Timothy 2:15, "…I also want women to dress modestly, with decency and propriety, not with braided hair or gold or pearls or expensive clothes, but with good deeds, appropriate for women who profess to worship God..", I decided to dress more modestly. Then reading 1 Corinthians 11, I felt convicted to wear a head covering and wondered why women still weren't practicing this in church as they did in the past. At the time I decided to dress modestly, my husband was not a Christian although he was fine with me dressing modestly. However, when I asked him if I could cover my head, he replied with a definite "NO"! About three years ago, he became a Christian and after a few years, I brought up the subject with him again about me covering my head. Now that he was reading the Word of God and attending worship, he understood why I would want to cover my head. He sees now that I'm submitting to God and him when I do this. I thought it was going to be easier wearing a covering, but I find myself daily struggling with my flesh to wear one. Dressing modestly is one thing but, adding the head cover definitely let's members of the opposite sex know you are "off the market". Also, my own Christian brothers and sisters and other family members don't understand my choice to do this.
4) When you read 1 Cor 11 and were first convicted to wear a covering, was that your first time reading that passage? What was your understanding of head covering before then?
Actually, I was convicted to were one before reading the passage, because I've seen other Christian women in the Amish and Mennonite communities and also nuns wearing them. To me seeing a woman veiled, showed to the world that she is a Godly woman. Even in my most wandering years away from the Lord, I felt my heart aching to be a Godly woman. After reading 1 Cor 11, it just confirmed that this is what God is wanting for me to do.  I asked some of my Christian sisters from different church denominations what they understood about this Scripture and they said that keeping our hair longer is our covering.
5) When do you wear your covering now?
I wear my covering at work and when I go out. I don't cover in my home or at family functions if there is just family in attendance.
6) What can you tell us about Lutherans and head covering?
I can only tell you what I know about the Lutheran Church Missouri Synod (LCMS) . There are other Lutheran Synods that believe differently in a few doctrinal issues. After the '60s women became more liberated with regards to the way they dressed and they now had the right to vote at our church meetings and hold council positions in the LCMS. So I feel even if some held on to the "tradition" of the covering it no longer had to do with the representing the sign of the male authority over her (1 Corinthians 11:10).
7) What kind of covering(s) do you use? Where did you get them?
I use a variety of coverings. I think I do have a misshaped head, that my husband and I laugh about, because some coverings just don't fit me properly. I like the ones that I can tie around my head and head bands that are at least 8 inches long to cover some of the back of my hair, too. I try to keep a look that is Christian, so people don't think I'm from another religious group, but it is hard, because Christians don't seem to really have their own "head covering" style. I get mine from myheadcoverings, headcoverings by Devorah, and department stores.
Would you like to share your story of how you came to believe in head covering? Tell us about it here.