[Series introduction: This post is part of a series that will examine what certain leaders in church history believed about head covering. Their arguments, choice of language and conclusions should not be misconstrued as an endorsement from us. The purpose of this series is to faithfully show what they believe about covering rather than only selectively quoting the parts we agree with.]
Martin Luther (1483-1546) was a German theologian who was the catalyst behind the Protestant Reformation. He is author of many books, lectures, commentaries and hymns (including "A Mighty Fortress is Our God"). Luther also translated the Bible into German. Today there are more than 73 million Christians who identify with his theology, known as Lutherans.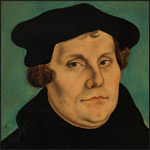 On January 15th 1525, Martin Luther preached a message on marriage. In his sermon he said this:
Women, be subject to your husbands as to the Lord, for the husband is the head of the wife" [Eph 5:22-23]. Again to the Colossians in the third chapter [3:18]. Because of this, the wife has not been created out of the head, so that she shall not rule over her husband, but be subject and obedient to him.

For that reason the wife wears a headdress, that is, the veil on her head, as St. Paul writes in 1. Corinthians in the second chapter, that she is not free but under obedience to her husband. 1) A sermon on marriage, 15 January 1525 WA XVII/I – Quoted from Susan C. Karant-Nunn & Merry E. Wiesner – Luther on Women: A Sourcebook (Cambridge University Press, 2003) page 95
Luther makes a direct connection between veiling and the creation order. He points out that woman was not created out of the man's physical head, but from his side. Luther sees the place she was created from as important due to the symbolism. She wasn't created from man's head, as if she's head over him, but rather she wears a headdress to show she's under her husband and obeys him. Read more
1.
↑
A sermon on marriage, 15 January 1525 WA XVII/I – Quoted from Susan C. Karant-Nunn & Merry E. Wiesner – Luther on Women: A Sourcebook (Cambridge University Press, 2003) page 95