Should Single Women Wear Head Coverings?

In 1 Corinthians 11, Paul instructs women that they are to wear a head covering when "praying or prophesying". The Greek word behind "woman" is "gynē" and it can be translated as "woman" or "wife" depending on the context. While almost all English versions of the Bible 1) Examples include the NIV, NASB, KJV, NKJV, HCSB and NET versions translate gynē as "woman" in verses 2-16, the popular ESV version 2) The RSV also advocates this view by translating 1 Cor 11:3 as 'the head of a woman is her husband' differs by translating some of the references as "wife". This has led many to wonder if head covering is only applicable for those that are married. Behind the ESV's translation decision, is an assumption that a woman wearing a head covering was a 1st century Roman symbol of being a matron (respectable married woman). It is our objective in this article to prove that Paul's teaching on head covering is for all men and women, regardless of their marital status.
Creation order or Marriage order?
As we mentioned, the Greek word gynē can be translated as wife or woman depending on the context. So the question that needs to be asked is, is there anything in the context that indicates only married women are in view? For support, 1 Cor 11:3 is usually appealed to, which states:
But I want you to understand that Christ is the head of every man, and the man is the head of a woman, and God is the head of Christ.
The argument from this passage is that a woman only has one head, and that is her husband. While we affirm that fact, we believe the scope of Paul's argument is far broader than married individuals. In this passage of Scripture, Paul is stating the order of creation, not the order of marriage roles. After all, every man has Christ as head, not just every husband. So this is not a limited statement that includes only a portion of people, but rather is an all encompassing statement that relates to everyone. He's dealing with men and women and their roles as determined by creation, not John and Jane as a couple. We know he has creation roles in mind because he expands upon this in verses 7-9. Here's what he says there:
For a man ought not to have his head covered, since he is the image and glory of God; but the woman is the glory of man. For man does not originate from woman, but woman from man; for indeed man was not created for the woman's sake, but woman for the man's sake.
We see here that Paul is talking about the big picture–the differences between men and women as a whole. Once again, he doesn't have a narrow focus of married individuals. If he did, and if we consistently translated gynē as wife here, we'd be left with Paul saying that wives originate from their husbands (1 Cor 11:8). This absurdity, although no one espouses it, forcefully makes the point that women (not just wives) are in view.
Dr. Daniel Wallace (PhD, Dallas Theological Seminary) is one of the leading conservative Greek scholars. In a paper he wrote on head covering 3) See 'What is the Head Covering in 1 Cor 11:2-16 and Does it Apply to Us Today?' by Daniel Wallace on Bible.org. Dr. Wallace takes the 'symbol replacement' view. , he agrees that there is no contextual reason to translate gynē as wife. Here's what he says: "We have not discussed at all whether single women or married women are in view in this text…Suffice it to say that [gynē] should be taken as woman (as opposed to 'wife') unless there are sufficient contextual reasons to argue otherwise." 4) Daniel Wallace – What is the Head Covering in 1 Cor 11:2-16 and Does it Apply to Us Today?' – Footnote #8.
Mary Kassian (Professor of Women's Studies, Southern Seminary) also sees women in view due to the universal relevance of Paul's arguments. She says, speaking of 1 Cor 11:13-15: "…the hair length illustration used indicates that he thought the ruling applied to all. Otherwise, the illustration loses its force, since hair length applied to all women, not just married ones." 5) Mary Kassian – Women, Creation and the Fall (Crossway Books, 1990) Page 100 She then explains what head covering means to women who are not married: "by wearing covering, a single women stated: "I recognize that God has ordered women to submit within the marriage relationship. Even though I am not married, I understand this principle, and I show my respect for it by wearing a head covering. Even if I never marry, I wear a symbol which recognizes my place in creation." 6) Mary Kassian – Women, Creation and the Fall (Crossway Books, 1990) Page 101
Wedding Scenes & Worship Attire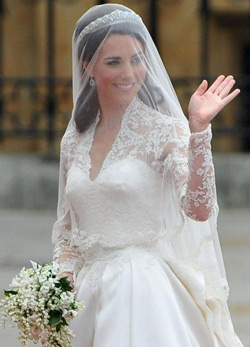 While 1 Cor 11:3 is sometimes appealed to as a reason for seeing marital roles in view, the main reason for this understanding comes from Roman culture. Wayne Grudem (General Editor, ESV Study Bible), an advocate of the married view, says:
"Evidence that head covering for a woman indicated that she was married is found both in literary sources and in archeological discoveries of artwork portraying wedding scenes." 7) Wayne Grudem – Evangelical Feminism & Biblical Truth (Crossway Books, 2012) Page 334 (answer 9.2b)
We must first point out that Grudem is looking in the wrong place for relevant evidence. He is looking to "wedding scenes" for support, but Paul is only concerned with how one worships. If one were to peer in on a 21st century North American "wedding scene" they would likely see the bride veiled as well. However, this snapshot would be inaccurate if it was used as evidence for how she worships, as she does not wear the veil after her wedding. The flammeum, a distinct Roman marriage veil that was worn by the bride, was not worn after her wedding as well. 8) See 'Kelly Olson – Dress and the Roman Woman' (Routledge, 2008) Page 22 So wedding scenes are unhelpful for Paul's discussion on worship attire.
The Roman Matron
It is often cited that in Roman culture, any respectable married woman (or "matron") would not be seen in public without a covering over her head. This connection between a covered head and being a respectable married woman is seen by some as inseparable. Before we examine this claim in more depth, we must first emphasize the wrong starting point for this evidence. Paul is concerned with how one worships (which was often done in the privacy of their own homes), not with how one appears in public. Having said that, the claim that a married Roman women would often cover her head in public does have some merit. Here are two quotations from respected writers on Roman dress: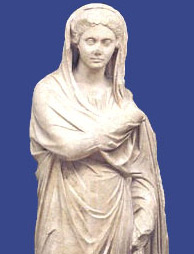 "The palla was a large rectangle of cloth, without the curved lower edge of the toga, that covered the body from shoulder to knee or lower calf…it soon became a necessary covering for a modest woman, and no respectable woman would leave her house without her head covered and her body concealed by it." 9) A.T. Croom – Roman Clothing and Fashion (Tempus Publishing, 2000) – Page 87
– A.T. Croom (Author, Roman Clothing and Fashion)
"A married woman's rank, status and morality were also supposed to be indicated by her dress: long tunic, stola, and palla or mantle, drawn over the head when the woman was out of doors, and hair bound with fillets. This description is offered by several modern scholars as that of the everyday clothing of the Roman matron." 10) Kelly Olson – Dress and the Roman Woman (Routledge, 2008) Page 25
-Kelly Olson (Author, Dress and the Roman Woman)
The problem with this evidence is that it's only half of the story. The other side is told by these very same scholars, but is not told by Christian theologians advocating the "marriage veil" view. Here are four facts that will portray the other side of the story and help provide a more complete picture of this practice in 1st century Roman culture.
1. The literary evidence and archaeology evidence often contradict one another.
"There is some disjunction, then, between the literary and the artistic sources for the costume of the Roman woman (and for that of the young girl). Various articles of clothing such as stola and fillets were very strongly linked with the appearance of the honorable married woman in literary sources, yet these "signs of purity" are by no means ubiquitous in the visual record." 11) Kelly Olson – Dress and the Roman Woman (Routledge, 2008) Page 40
"Modern authors have stated that the covered head was part of the everyday costume of the Roman matron. But again we must note a disjunction between literary and artistic evidence." 12) Kelly Olson – Dress and the Roman Woman (Routledge, 2008) Page 34
2. Roman women are seen bare-headed in portraits more often than with their heads covered.
"The vast majority of female portrait busts we possess show the woman with an unveiled head, probably in order to display her elaborate hairstyle to the viewer." 13) Kelly Olson – Dress and the Roman Woman (Routledge, 2008) Page 34
"Public marble portraits of women at Corinth, presumably members of wealthy and prestigious families are most frequently shown bare-headed." 14) David W. J. Gill – The Importance of Roman Portraiture for Head-Coverings in 1 Corinthians 11:2-16, Tyndale Bulletin 41.2
"Because most of the women's portraits presented here portray women with uncovered heads, one may infer that bareheadedness in itself was not a sign of a socially disapproved lifestyle." 15) See 'Hairstyles, Head-coverings, and St. Paul: Portraits from Roman Corinth' by Cynthia L. Thompson (Biblical Archaeologist, June 1988) page 112
3. There was not only one "Roman" costume. Roman dress would vary by province and different provinces had different customs on head covering.
"The provinces of the Roman Empire stretched from Spain to Syria, from Scotland to Egypt, and covered a great many different nations and tribes. The Romans …accepted that different people had different cultures and did not attempt to convert them all to an Italian Roman way of life." 16) A.T. Croom – Roman Clothing and Fashion (Tempus Publishing, 2000) – Page 123
4. Corinth was a multi-cultural city and Roman women would often wear their native costume, rather than Roman costume.
"Clothes also helped to identify race or nationality. Native costume was worn, particularly by women, during the first and second century at least, even by those who had a Romanised lifestyle." 17) A.T. Croom – Roman Clothing and Fashion (Tempus Publishing, 2000) – Page 145
"…it is often the women who retained their native fashions while men adopted Greek or Roman fashions, so that a gravestone can show a woman in native costume and the man in a toga or in a Greek tunic and mantle." 18) A.T. Croom – Roman Clothing and Fashion (Tempus Publishing, 2000) – Page 124
So while married Roman women may have often covered their heads in public (a fact we are not trying to cast doubt upon), this was far from being a unanimous practice. This type of partial observance is not what we would expect, if this was the cultural symbol of being married.
Vestal Virgins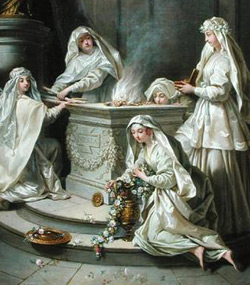 The Vestal Virgins provide us with key evidence that a covered head was not the standard sign of being married in Roman culture. These women were priestesses of Vesta who "cultivated the sacred fire that was not allowed to go out." 19) Quoted from the 'Vestal Virgins' Wikipedia page – Accessed May 30, 2014 They "were freed of the usual social obligations to marry and bear children, and took a vow of chastity in order to devote themselves to the study and correct observance of state rituals…" 20) Quoted from the 'Vestal Virgins' Wikipedia page – Accessed May 30, 2014  These women were highly respected and a marriage to a former Vestal (after her 30 years of service) was thought to bring good luck. A.T. Croom (Author, Roman Clothing and Fashion) writes:
The Vestal Virgins are the most well-known of Roman priestesses, holding a very special role in Roman public life…The most important elements, as with the bride, was the covering for the head." 21) A.T. Croom – Roman Clothing and Fashion (Tempus Publishing, 2000) – Page 112
These women, who took vows of virginity, covered their heads. Clearly then, the head covering was not a sign that they were married. Nobody in their culture would have interpreted it in that way.
Early Christian Witness
Another relevant piece of evidence is how early Christians understood Paul's command. Tertullian (160-220AD), writing just 150 years after Paul's letter to the Corinthians, speaks of knowing first-hand what the church in Corinth was still practicing in his day. In one of his books called "On The Veiling of Virgins", he said:
"So, too, did the Corinthians themselves understand him. In fact, at this day the Corinthians do veil their virgins. What the apostles taught, their disciples approve." 22) Tertullian – On The Veiling Of Virgins – Chapter VIII. – Emphasis in the quotation is mine.
A question the "marriage veil" advocates need to ask themselves is "Why would the Corinthian church veil their virgins in 200AD, if they knew it was their culture's symbol of being married?"
Jerome (347-420) also affirms this practice for unmarried women while speaking about "virgins and widows" in Egypt and Syria "who have vowed themselves to God". He says that these women do not "go about with heads uncovered in defiance of the apostle's command, for they wear a close-fitting cap and a veil." 23) Letters of St. Jerome – Letter 147 (#5)
Final Thoughts
Paul tells us that we practice head covering "because of the angels" (1 Cor 11:10) and because it conceals human glory (1 Cor 11:7). He does not say that head covering shows that one is married. Those that hold this view, usually arrive at this conclusion from cultural analysis (and as we've argued, an incomplete one) rather than biblical exegesis. Since there is no compelling historical or biblical reasons to see head covering as a sign of marriage, we affirm the practice for everyone, regardless of their marital status.
Latest posts by Jeremy G.
(see all)